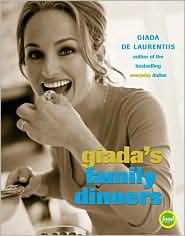 I mentioned in yesterday's
review
of
Giada's Kitchen
that I also own
Giada's Family Dinners
, which was gifted to me by my friend
Karen
. I felt guilty about not having made anything from the book since I received it in July, so I took it off my shelf the other night and took another good look through it. I'd forgotten that there was a cookie recipe with hazelnuts in it! And of course, we all know that I have a
whack of hazelnuts
kicking around! So, this afternoon, I baked.
You might remember the "perfect" chocolate chip cookie recipe I posted about
here
, that also made waves around the foodblogging world? The one where you chilled the dough overnight in the refrigerator? It was pretty much as near perfect as you could come with chocolate chip cookies, though it's hard to make a bad one. Well, this recipe from Giada is just as perfect. In fact, it's the ULTIMATE!
Chocolate Chip Cookies with Hazelnuts
, page 220 of
Giada's Family Dinners
1/2 cup oats (not instant)
2 1/4 cups all purpose flour
1 tsp each baking powder and baking soda
1/2 tsp salt
1 cup butter, at room temperature
1 cup light brown sugar, packed
1 cup white sugar
2 large eggs
1 tsp vanilla extract
2 Skor bars, crushed or finely chopped (I whacked mine with a rolling pin outside on a cement wall)
1 cup hazelnuts, roasted and chopped
1 12oz bag chocolate chips (I used about 1 1/4 cups)
Preheat oven to 325F and prepare two cookie sheets.
Pulse the oats in a food processer until fine. Combine them with the dry ingredients in a large bowl.
Cream butter and sugars until light and fluffy. Add eggs one at a time, then the vanilla. Fold in the chocolate chips, Skor bars, and hazelnuts.
Drop the dough by tablespoonfuls but do not flatten them (they flatten them as they bake). Bake until golden - about 15 minutes. Don't overbake them! Cool on the sheets for a few minutes before transferring them to racks to cool completely.
When I baked these, after I added the chocolate and nuts etc.,I realized my dough looked very strange...It was dry and wouldn't hold together. A brief perusal of the recipe revealed that I'd forgotten to add the eggs! D'oh! I quickly whisked two together in a small bowl and added them to the dough, aware that I was in danger of overworking the flour with each additional turn of the KitchenAid's paddle. But, it all worked out in the end, and these cookies are a huge success.
This cookbook contains a few recipes I plan on making in the near future, and I have a good feeling that this book is going to be just as much a gem as
Giada's Kitchen
was. Thank you, Karen!