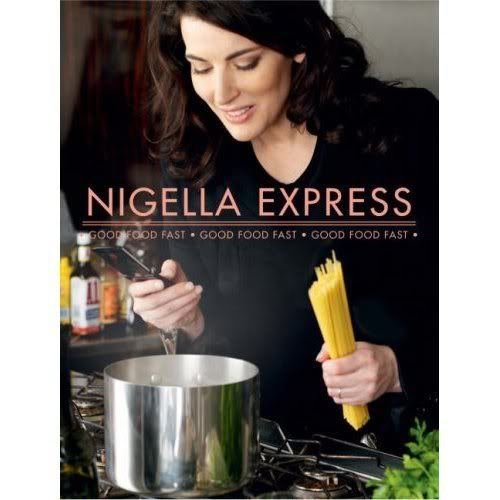 As we all know, I love a good cookbook. As you may not know, I own far too many. But I'm good with that! I wouldn't have it any other way.
Time is something I have in abundance as well, and I have a real admiration for
Nigella Lawson
and really enjoy her shows on
The Food Network
. She makes food and look sensuous and sexy and she obviously believes heartily in indulging oneself without the socialized guilt reaction kicking in. So, imagine my pleasure when I was given a copy of
Nigella Express
!
The subtitle,
Good Food Fast
, pretty much sums it all up. Divided into 13 chapters with recipes running the gamut from starters to salads to breakfasts and desserts, to meals designed for easy entertaining, Mexican meals and holiday treats,
Nigella Express
has an impressive variety of quick meals, and some pretty neat time-saving ideas.
Perhaps contradictory to the "express" theme are the rather wordy introductions to the chapters and to each recipe, but Nigella certainly has a writing style as unique as her recipes. Her passion for food jumps off the page at the reader with her descriptions. For example, the directions for "Hokey Pokey" on page 281 say to "watch the syrup turn into a whooshing cloud of aerated pale gold" and, once it's set, "bash at it, so that it splinters into many glinting pieces." The "Sweetcorn Chowder with Toasted Tortillas" on page 235 directs the cook to "blitz" the soup "to a speckled primrose mush." You get the idea.
As for the recipes, I've made three so far. For some reason, I've been craving pancakes lately, so I was delighted to see Nigella include a pancake mix recipe that made beautiful, light, fluffy pancakes. Also, I made another breakfasty dish called "Oeufs en Cocotte." The recipe calls for
truffle oil, which I happen to have, believe it or not (I got a deal at a food expo while in culinary school) and the sauce the cream and truffle oil creates over the egg was positively heady. There are many dessert recipes in the book, and for a family dinner I made the "Chocolate Pear Pudding." I was wonderful and a huge hit!
The one drawback to the book that I saw was that, in typical European style, the recipes mostly used weights in metric as opposed to Imperial volume (i.e. cups). An electronic scale that measures in grams is, unfortunately, a necessity for many of the recipes. I have one because I had to buy one for culinary school, so this wasn't a problem for me. But, you will have difficulty if you don't have one. Additionally, you'll have to be able to convert the temperatures given in Celsius and gas marks to Fahrenheit if necessary.
My only other beef about the book is that some of the pictures in it were, if not somewhat unappetizing, a little dated-looking. For instance, the picture of "Turkey Tonnato" on page 335 looked a little swamped with sauce and reminded me of something out of a 1970s-era Betty Crocker cookbook. The duck breast platter on page 211, though vividly coloured with greens and reds, looked like an demonstration I had in one of my jobs on how
not
to plate.
This definitely isn't a diet book by any stretch of the imagination, but if you're looking for ways to feel like you're making hearty, higher-end food without loads of effort, this might be a good investment for you.