So, my camera died a couple of weeks ago, and though a new one is on the way, I'm reluctant to post anything here until I can take a photo of it! Ah, well. I'll give you something simple to tide you over. I made
this amazing frozen yogurt recipe
today. I subscribe to both
Bon Appetit
and
Gourmet
, having been lured with a screaming "professional" deal. I've never regretted it.
Lemon-ginger Frozen Yogurt
3/4 cup water
3/4 cup sugar
1/4 cup light corn syrup
2 teaspoons finely grated peeled fresh ginger
1 cup plain nonfat yogurt (I used 2% because I hate fat-free yogurt)
1 cup low-fat buttermilk (I used whole buttermilk)
1/4 cup fresh lemon juice
1 teaspoon finely grated lemon peel (I used twice this amount)
Preparation:
Bring water, sugar, light corn syrup, and grated ginger to boil in medium saucepan, stirring until sugar dissolves. Boil 2 minutes. Strain into medium bowl and chill until cool. Whisk in yogurt, buttermilk, lemon juice, and lemon peel. Process in ice cream maker according to manufacturer's instructions; cover and freeze. (Don't discard the strained ginger; it'll make a pretty garnish.)
I have this Cuisinart ice cream maker: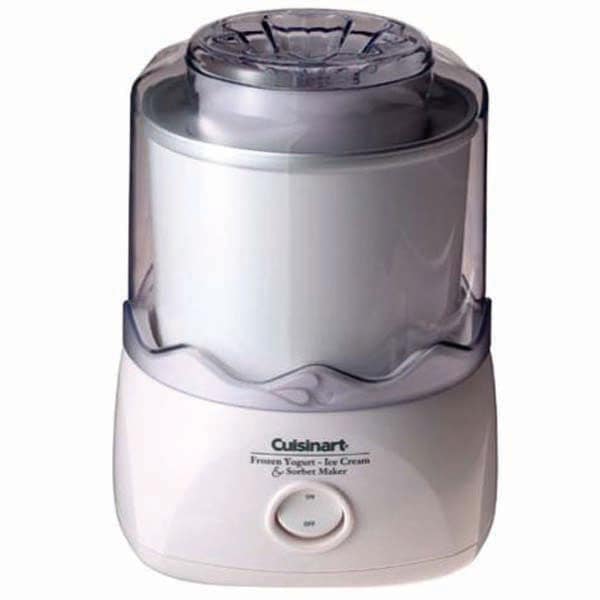 Man, do I love this machine! I've used it for so many things, including this
lemon ice cream recipe,
which is do die for. This is a really great appliance, and it's simple to use and makes fantastic products.
FYI, I've been using a web site called
The Daily Plate
to track my eating. If you haven't already heard of it, check it out - I highly recommend it. You can plug in a recipe of your own and create a nutritional label for it. According to TDP, this frozen yogurt recipe (which makes approximately six 1/2-cup servings) has 93 calories, 16.75g total carbs, 1.83g total fat, and 14.88g sugar. Not bad, eh?
Enjoy.